Preserve your old photographs, home movies, records and cassettes.
How to Access
Please fill out the form below and we will contact you to schedule your two-hour appointment slot.
Each appointment includes a skilled volunteer to assist you. Appointments are limited to a single two-hour appointment per week per person.
Because space and time in the Vintage Media Lab is limited, we appreciate your cooperation in regard to equipment, storage and cleanliness.
What to Bring
Laptop
SD Card, Memory Card
USB Drive, Flash Drive or Memory Stick
External Hard Drive
Your Vintage Media!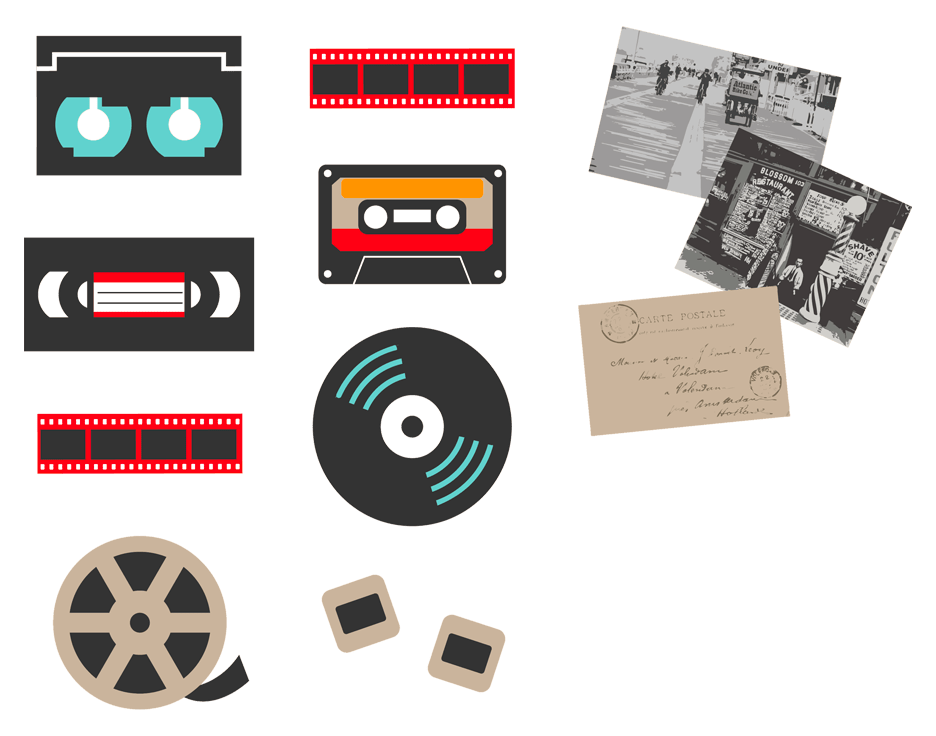 Frequently Asked Questions
Everything in the Vintage Media Lab is free to use and was purchased through a Pacific Library Partnership grant in 2019! In other words, the only direct cost to you is the amount of time it takes to finish your digitization project.

Photos slides: 30 slides per minute, or about 1 slide every 2 seconds. Your pre-sorted 80 slide carousel filled to the brim with photos can take as little as 3 minutes from start to finish.

Photo prints: Our Epson FastFoto scanner can batch scan 35 photos at a time and takes about 1 second per photo.

VHS and 8mm Video (Video8/Hi8/Handycam): This happens in real-time. 2 hours of video will take 2 hours to digitized.

Super 8 or 8mm Movie Film: Approximately 35 minutes for a small reel of film (~50ft).

We have an automated slide scanner and DSLR camera rig that makes this a fast and easy process. Follow these 4 steps before visiting the library with your vintage photos to make it even faster and easier.

Make sure your slides are clean. Dust is the enemy of a good scan, and this is especially true with cardboard slides that have been sitting idle for many years.
Preload your slide carousels. We recommend 80 slot slide carousel versus 140 slot carousels, which tend to jam our machine.
Turn your slides so they're horizontal or "landscape" oriented. This is a small extra step but will make sure our camera captures the full image.
Flip your slides so the "shiny" side of the slide is facing forward. Like #3 before, this is possible to fix later in photo editing software, but getting it right the first time can save you time.
"*" indicates required fields
This library services is part of the new ReBoot Room located on the 2nd floor of Mitchel Park Library. We thank the Pacific Library Partnership for their grant which made purchasing this equipment possible.
Closed
until 10:00am today
---
Monday 
Closed
Tuesday 
10:00AM - 9:00PM
Wednesday 
10:00AM - 9:00PM
Thursday 
10:00AM - 9:00PM
Friday 
10:00AM - 6:00PM
Saturday 
10:00AM - 6:00PM
Sunday 
10:00AM - 6:00PM
3700 Middlefield Rd
Palo Alto, CA 94303
Mitchell Park Library is part of a new joint library & community center facility, serving diverse community needs. The lively space includes public art and supports a wide array of library programming.